Description
Kraft Business Cards
Natural Brown Kraft Stock
Kraft business cards feature a beautiful rustic charm! Printed on natural brown 290gsm uncoated artboard, these cards are the perfect choice for anyone looking for vintage and unique business card solution.
Our kraft brown stock works best for darker coloured designs making the brown stock really stand out against the printed areas. The natural paper features subtle textures and tones of browns making this stock a perfect choice for anyone looking for a natural and rustic style of business card.

Printing on our natural brown kraft business cards is available on single or double sided card designs.
Kraft Card Features
290gsm natural browm
No coating which absorbs more ink
CMYK printing 1 side, or CMYK printing 2 sides
White ink NOT available
Digital Printing
Subtle textures and tones of browns
Free delivery Australia wide
Perfect For
Business Cards
Point of Sale
Loyalty Cards
Coffee Cards
Promotional Cards
Wedding and Invitation Cards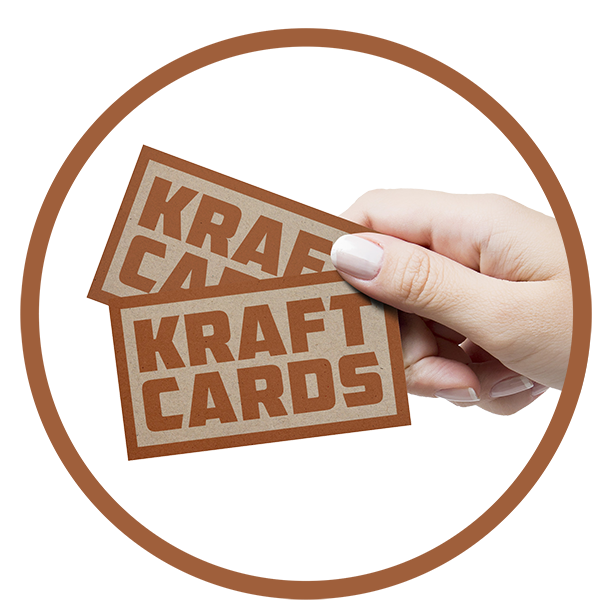 CMYK Colour Mode
Setup your artwork and graphics in CMYK (Cyan, Magenta, Yellow and Black) colour mode. This will ensure that you avoid any unexpected colour changes. Please convert any RGB or SPOT images to CMYK before supplying your file.

The Right Blacks
TEXT AND LINES
Black: C0%, M0%, Y0%, B100%
BACKGROUNDS (larger 30mm area)
Rich Black: C30%, M20%, Y20%, B100%
Rich Blue Black: C40%, M0%, Y0%, B100%
DEFAULT BLACK
Refrain from using this black in any artwork as it may result in drying and/or scuffing issues.

Resolution
All files must be supplied at a minimum of 300dpi (dots per inch) at full size. Images such as photos which appear in your artwork must also have a minimum resolution of 300dpi. Images that have a lower resolution may result in a pixilated or fuzzy finish. REMEMBER – images taken from the Internet are only 72dpi and are not suitable for print.

Outline or Embed Fonts
Make sure that all fonts are outlined or embedded within your file. This means that we can print your file even if we don't have your fonts installed on our computers. This will reduce the possibilities of fonts not displaying as they should and not being printed the way you had proposed.
Download a Design Template
Visit our FAQs page for more hints and tips
Standard 90mm x 55mm Card Setup
Bleed Area = 96mm x 61mm
If you wish to print colour to the edge of your card, please include an extra 3mm of colour (bleed) around the entire artwork.
Trim Area = 90mm x 55mm
This is where we cut your cards.
Safe Area = 84mm x 49mm
It's a good idea to keep all important text and graphics within the 'safe area' otherwise they may be cut off.