Description
Foil Stamp Luxury Business Cards
QUICK TURNAROUND TIME – DISPATCHED WITHIN 5 TO 7 DAYS!
Are you looking for fast turnaround premium silver and gold foil stamp business cards? Our super high quality silver foil cards are dispatched within 5 – 7 working days ensuring that you receive your cards as quickly as possible.
Foil stamping uses heat and metallic foils to create a shiny metallic finish. During the foiling process, the foil is transferred to the business card by means of a heated metal die. When foil stamping is applied to chosen areas on your business card, the shiny metallic foil enhances specific sections resulting in a sophisticated and quality appearance. The smooth matt laminated card finish creates a beautiful contrast against the shiny foil surface making these cards extra special.
For best results and greatest foil clarity, avoid fine detail and small fonts (see artwork guidelines for more information).
Card Features
Heaveyweight 450gsm
Coated artboard
Luxury Matt Laminate 2 sides, foil 1 side
CMYK printing 2 sides
Colours appear smoothed and luxurious
Foil areas appear shiny, metallic and lustrous
Free delivery Australia wide
Looking for something different? Why not try our magnet cards, recycled cards or frosted plastic cards
Perfect For
Great for Business Cards
Promotional Cards
Loyalty Cards
VIP Vards

CMYK Colour Mode
Setup your artwork and graphics in CMYK (Cyan, Magenta, Yellow and Black) colour mode. This will ensure that you avoid any unexpected colour changes. Please convert any RGB or SPOT images to CMYK before supplying your file.

The Right Blacks
TEXT AND LINES
Black: C0%, M0%, Y0%, B100%
BACKGROUNDS (larger 30mm area)
Rich Black: C30%, M20%, Y20%, B100%
Rich Blue Black: C40%, M0%, Y0%, B100%
DEFAULT BLACK
Refrain from using this black in any artwork as it may result in drying and/or scuffing issues.

Resolution
All files must be supplied at a minimum of 300dpi (dots per inch) at full size. Images such as photos which appear in your artwork must also have a minimum resolution of 300dpi. Images that have a lower resolution may result in a pixilated or fuzzy finish. REMEMBER – images taken from the Internet are only 72dpi and are not suitable for print.

Outline or Embed Fonts
Make sure that all fonts are outlined or embedded within your file. This means that we can print your file even if we don't have your fonts installed on our computers. This will reduce the possibilities of fonts not displaying as they should and not being printed the way you had proposed.
Foil Stamp Business Cards File Setup
When setting up your document, we require the foil finish to be supplied on a separate .PDF in 100% black.  THE FOIL AREA MUST BE SUPPLIED IN VECTOR FORMAT.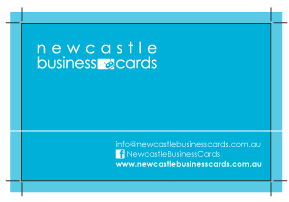 File 1: Front CMYK Printing
All printed areas (no foil on this file).
IMPORTANT: All fonts must be outlined.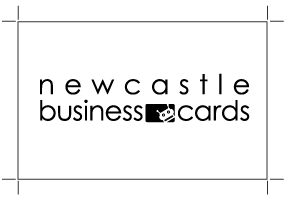 File 2: Front Foil Finish
Show all the foil areas in 100% black. No CMYK printing to be supplied on this file.
IMPORTANT: Foil areas should be at least 0.6mm thick. Foil area in vector format only.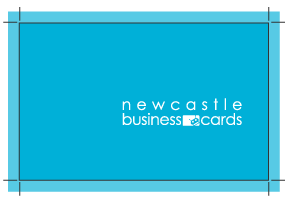 File 3: Back CMYK Printing
All printed areas (no foil on this file).
IMPORTANT: All fonts must be outlined.
Download a Design Template
Visit our FAQs page for more hints and tips
Standard 89mm x 54mm Foil Stamp Business Card Setup
Bleed Area = 95mm x 60mm
If you wish to print colour to the edge of your card, please include an extra 3mm of colour (bleed) around the entire artwork.
Trim Area = 89mm x 54mm
This is where we cut your cards.
Safe Area = 83mm x 48mm
It's a good idea to keep all important text and graphics within the 'safe area' otherwise they may be cut off.